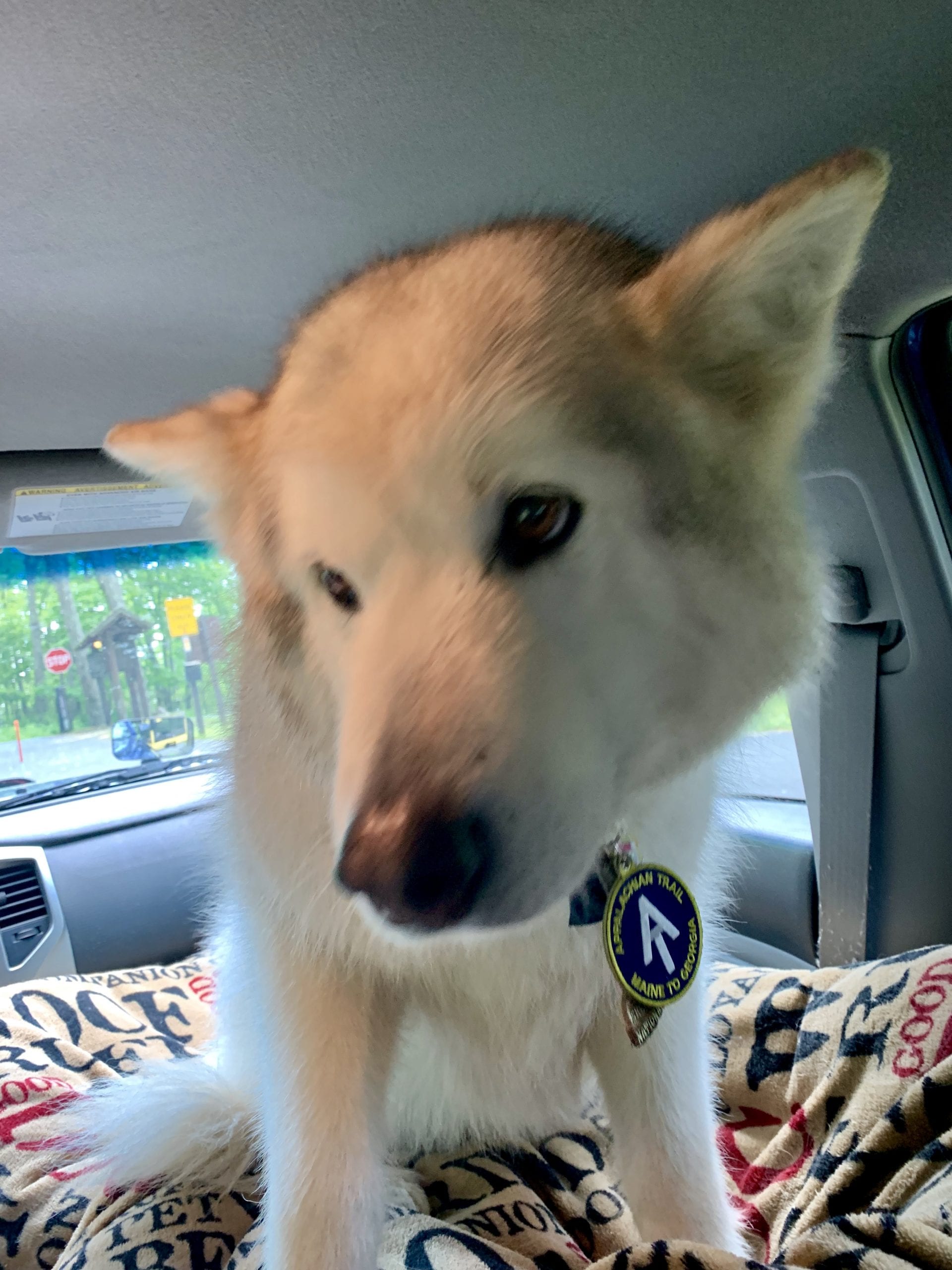 (6/3/19) Someone said it was supposed to get down in the 40's in town last night. Its typically about 10 degrees cooler up in the mountains. Well, I guess it depends on what mountain you're on top of. The higher the elevation, the colder it gets, typically. So it was supposed to drop down in the 30's where we were tenting. It did get pretty chilly over night. It's hard to believe it gets this cold in June though.
We tented at Big Meadows camp ground. This guy comes up every year from FL to enjoy the cooler temps in the mountains. He comes back to this same camp ground, gets the same corner spot, and parks his RV. Thru hikers come off the AT and pass right by his lot. He offers up some of his lot for hikers to setup their tents. Otherwise we'd have to pay for a spot to put up our tents. I know, you're thinking, just go back in the woods, and set up there. There's signs posted saying you can't camp within so many feet of camp grounds. I'm assuming to prevent people from taking advantage of things like the bathrooms and showers without paying for a spot on the camp ground. Anyway, we enjoyed our nice, grassy, flat spot, for free. Typically we're tenting in the dirt, on rocks and roots. So this was nice for a change.
I got up pretty early. I stayed curled up in my sleeping bag as long as I could. My phone and backup battery were nearly out of power. I wondered if the bathrooms had power outlets in them. I mustered up enough energy to get warmer clothes on and ventured out into the camp ground. I made my way to the bathroom and sure enough, power. I got some work done while charging my devices in the bathroom. The camp ground store finally opened at 9AM. I got some change so I could do laundry and take a shower. Yup, my first time putting quarters into a shower for minutes of warm water. Kind of comical. But I was sure glad this machine existed.
By the time I finished my shower and made my way back to the tent. Mulligan was getting up. We both agreed, it was time for breakfast. We grabbed as much food as we could from the store and sat down outside to eat. Blue Jay and Ember joined us. Mulligan was next in line for the shower. As he got cleaned up I tossed our filthy clothes in the washing machine. I guess I shouldn't have been surprised at what happened next. We were both clean, had clean clothes, full bellies, so weren't too motivated to get back onto the trail. We were both feeling pretty exhausted actually. Which was strange. We didn't hike that many miles yesterday. We had plenty or food and plenty of rest. But we discussed taking a zero day. Typically, if you're going to do this, you want to do it in town, so you have a nice comfy bed to sleep in. The camp ground had cabins you could rent. But at $150 a night, we decided to pass on that option.
As we were contemplating our next move, Michael Paul, or MP, who we met the night before, with the beautiful white Alaskan malamute, came by. He asked us what we were up to. We explained our "dilemma". He said he'd be more than happy to take us somewhere. Really!? Front Royal was a nearby town just north of us on the AT. He said he could take us there. But how would we get back to this same spot so we wouldn't miss any of the AT? Well, we could just hike south, to get back here. He said he could take us back to Front Royal again in a few days when we returned. Really!? We thought….that might just work. We'd be able to see a lot of people we've met as we came back south, that were still heading north. We decided to do it.
We packed up all of our stuff and jumped in the back of MP's truck. His dog, Mishka, was riding shotgun of course:) We got to Front Royal, offered MP money for the ride, but he wouldn't take it. We checked into a hotel, went out for "dunch" at a Thai restaurant close by, grabbed a few resupply items on our way back, unpacked and got situated in our room. I, as usual, caught up on some work items, then crawled into bed and crashed. It felt good to be back in a bed after being out on the trail for several days.
#ATHikeForHope
Please Donate: https://fundraise.showhope.org/hikeforhope